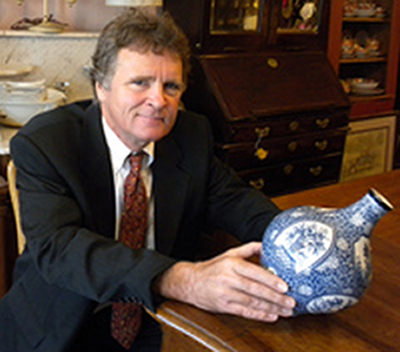 My goal is to find value in unexpected places and protect my clients interests.
Antiques Roadshow
Click to see Peter in action
Professional

Appraisers Association of America (20+ years)

Building Material Reuse Association

Uniform Standards of Professional Appraisal Practice
Education

New York University

Rhode Island School of Design
Articles and Photographs
The New York Times Sunday Magazine, Architectural Digest, Forbes, The Magazine Antiques, Antiques and The Arts Weekly - and others.
Shows
The American Antiques Show in New York for benefit of American Folk Art Museum, board and vetting committee of the Antiques Council, and the Ellis Boston Antiques Show, plus others

Antiques Roadshow on PBS television
View the videos:
Let's Connect
Testimonials
About 40 years ago, I purchased two paintings for a few thousand dollars from an artist who was a patient of mine. The artist went on to become well known and has since died. I retired and was planning to move so I wanted to update my insurance. Much to my surprise, the insurance company rejected the first appraisal because the appraiser wasn't certified. Thankfully, Peter Curran was able complete the assignment and the paintings are now insured for $1 million.
Dr. W from Jupiter, Florida
Our father was a successful businessman. He amassed an eclectic group of collections that were packed into the apartment in the city, the beach house on the island, plus several storage units. There was an overwhelming amount of stuff ranging from multi-million dollar paintings to quirky finds from travels with our mom. We needed someone to make sense of it all and help us develop a plan for distribution of the estate. Peter Curran, with his wide range of expertise, was a great help and very pleasant to work with.
Suzy and Frank B. from New York City and Nantucket
After I got divorced I asked two major auction houses and several prominent dealers to give me estimates and offers on items that I wished to sell. It was confusing so I hired Peter Curran to advise me. He noticed that an 18th century table had been mistakenly labeled by all of them. Based on his information, I was able to sell the piece for several hundred thousand dollars more than I was previously told. It went to famous collector and is now a promised gift to a national museum.
Mary T. from Greenwich, CT
We purchased an older home in a great location. It was too small for us, however, so we decided to deconstruct the structure and donate the used building materials to charity. This helps protect the environment, save energy and we were able to claim a tax deduction. To maximize the financial benefits we retained Peter Curran to do the required appraisal. He is one of the most qualified appraisers in this emerging field.
Mr. and Mrs. N. from Palo Alto, CA
I recently purchased an apartment in NYC. It is a great space but I just didn't like the kitchen. Everything was new and high-end. So I donated the cabinets and appliances to charity. Mr. Curran did a very professional job with the appraisal and preparing the tax forms.
Billy J, New York City