Delivering custom financial risk management solutions and innovative information to clients is part of our mission statement. The use of technology for these deliverables is key to our success. The below information outlines the areas in which software products have been developed or adapted by Allied's Information Technology Division.
Contractor/Client Portal
Allied is close to releasing the newest of our technological solutions. A true client portal enabling our clients a one source, secure login. This new technology will serve as a coordinated system granting our clients access to all of the software currently in use in managing their accounts, historical information and provides real time data on their account. Go There
Claims
Allied.net is proprietary software for reporting claims, monitoring and storing data regarding those claims. At Allied our clients can report claims to us over the internet, through a 1-800 service or clients can call any member of their service team. Through Allied.net, clients can access claim forms, enter claim data and send it to Allied. Allied will review the data, submit the claim to the insurer, assign an internal number and send confirmation to the client within 24 hours. In addition, Allied can store documents, photos, documentation of conversations and emails all within the Allied.net system. We will illustrate this more in our answer to your claims service section.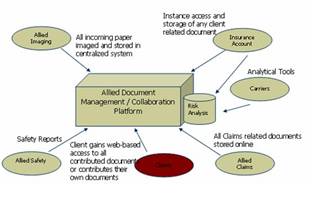 Document Management
Allied has been proactive in creating a system to mange our clients documents electronically. The DM System enables us to scan and store relevant records, policies etc. that relate to our many accounts. This system is due to be linked with our client portal and enable our clients to view their information over a secure link.
Stewardship
The Stewardship Calendar enables Allied personnel to consolidate all client related tasks, projects and issues in one place. It will provide the client not only with full visibility into those activities but also with the ability to manage, collaborate and share data.
Wrap-Up Administration
Allied has developed a proprietary wrap-up administration software system. This system captures all of the information necessary to track the cost deducts, payroll reports and other data necessary to properly run and monitor large wrap-up programs. In addition, it produces a report which allows the client to see the "balance sheet" of the wrap-up on a real time basis.
Certificates
A software system integral to the issuance of Certificates of Insurance and Automobile ID Cards. The ability for clients to access their previously issued Certificates of Insurance and Automobile ID Cards in addition to requesting new Certificates of Insurance and Automobile ID Cards on a 24/7 basis. Allied expects this capability to be available by year end.
Safety and Loss Control
Allied has partnered with DBO2 to provide software applicable to safety and loss control needs. It is accessed through various PDA's thus enabling real time reporting and mobile data entry and analysis. This is useful as an analytic tool. Perhaps more importantly it frees up the time safety professionals spend in the office on record keeping thereby enabling more time in the field.
General and Administrative
Allied's client administration system captures such information as billings, certificates of insurance, auto ID cards, property schedules, equipment schedules, exposure base information and other client specific data. Allied is currently developing client access to the administration system through a client portal which will be accessible through the internet. Allied anticipates the portal to be fully functional by year end. Presently Foulger-Pratt can call any member of their account team to obtain print outs of any and all client based information in the administration system. This is particularly important where allocation of premiums to various property owners is an important billing and documentation need.
Surety
Allied uses SurePath for automated surety data management. SurePath is a web-based surety bond processing system that enables clients, obligees and carriers to manage their surety bond requirements efficiently through automation of administration, processing and reporting functions.
Data Analysis
Allied has software to analyze loss information for confirmation of Experience Modification Factors. Allied's software programs enables us to produce Loss Projections, and complete financial modeling for sophisticated financial mechanisms including high deductible programs, retrospectively rated programs, collateralized programs, captive insurance companies, etc.
SubGuard
Allied has developed a proprietary software management tool that organizes the SubGuard underwriting process for our clients. Allied, in a consulting role, performs a function similar to surety underwriting. We meet with our SubGuard clients and analyze subcontractor data. We provide that data to our clients on a web-based database. Our clients access that database via the internet to help manage their subcontractor risk profile. One of the functions that the database performs is an aggregated look at a given subcontractor across all projects for a specific client. In addition, we can monitor subcontractors across multiple General Contractors, though we cannot disclose specific project information, we can monitor defaults over a wide window of information.