The Art of Eight Limbs
Muay Thai (Thai: มวยไทย) or Thai kick boxing is a form of hard martial art mainly practised in Thailand. Muay Thai has a long history. It is the country's national sport – and arguably one of the kingdom's most striking national icons.
Muay Thai is referred to as "The Art of Eight Limbs", as the hands, shins, elbows, and knees are all used extensively in this art.
The fighting philosopy of Master Chinnarach ... A few words that describe Chin's approach to Muay Thai as a discipline, his training, and his gym. This statement defines Muay Thai Chinnarach as more than just a business...
Like most competitive full contact fighting sports, muay Thai has a heavy focus on body conditioning.
Overflowing with color and ceremony as well as exhilarating moments of clenched-teeth action, the best matches serve up a blend of skill and tenacity.
Muay Thai Chinnarach offers a range of service packages targeted to satisfy your individual needs. Private and Group sessions, Light and Intensive Training Programs, Beginners and Experts, On-site Room & Board.
We work hard and we play hard, too. Beautiful Koh Phangan offers delightful places to play, excellent places to stay and delicious food.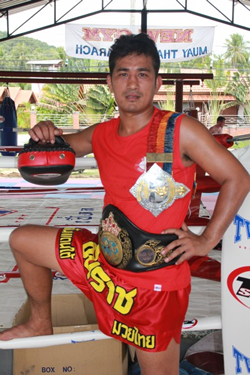 Chinnarach Chor Wattarin
Champion Southern Province (age 12)
Junior Champion Bangkok (age 13)
Featherweight Champion Regional 1999, 2000, 2001
Featherweight Champion of the World 2000, 2001
250 fights, 185 wins
[ Title of Fight / Date ]